Thinking about using some sparkly fun stuff for your holiday season? I love sparkle, glitter, stones, feathers… privilege of being a makeup artist is that I can play with these makeup items whenever I want!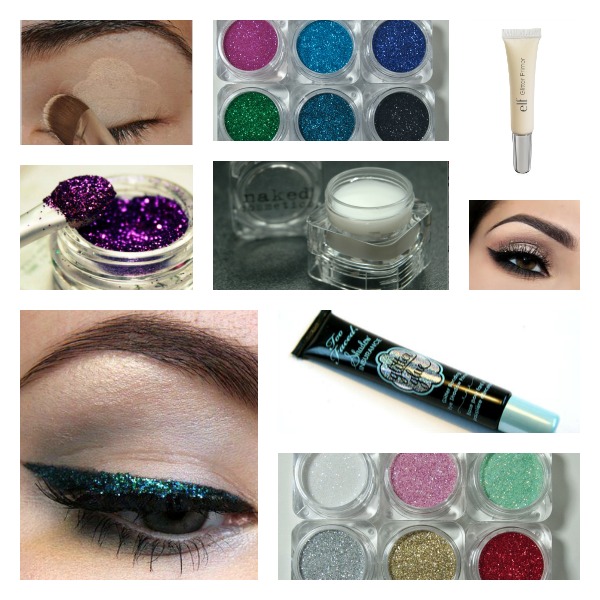 Quick note with glitter, though, is that you need to apply an adhesive before you apply glitter or loose pigments – otherwise, your fun sparkles will fly away and you will have just a few specks in your chosen spot. Please remember that when you are applying eyeshadow, you want to use a product safe for the eyes – careful with that delicate skin! That said, I really like these items:
Naked Cosmetics Eye Shadow Primer. Also check out their gorgeous loose pigments, colors, and glitter!
Too Faced Shadow Insurance Glitter Glue
As usual, e.l.f. comes to the rescue with a $2 nugget: e.l.f. Essential Glitter Primer
1. Start by tapping the primer onto your lid with your ring finger or a flat synthetic brush
2. Tip or spoon a small portion of the glitter into the cap of the container
3. Using your synthetic brush, dip into the cap to pull out just enough product, tap off excess over the cap
4. Pat the product onto your eyelid, wherever you want the effect
5. Continue to pat on product until you have enough for your application, and blend out the edges using a synthetic blending brush
If you feel that you always get glitter all over your lashes and cheeks, hold (or tape) a clean tissue, starting at your lashes, to prevent eyeshadow fallout.
Send me some pics to show me your gorgeous glitter!